Chat or text?

Item #00894
Loading product details ...
Description
Reviews (2)
Video
Product Description:
Kid's NIKE® FREE 5.0 :: Rest assured with the Kid's Nike® Free 5.0, knowing that you're giving your little athletes all of the durability and lightweight comfort that you'd find in the adult Nike® Free 5.0 shoe, plus a secure and supportive fit designed specifically for a smaller foot. They'll be racing around the playground feeling free and confident in the flexible yet stable feel that'll synch seamlessly with the natural motion of their foot. Their every step will be cushioned in reliable Nike® comfort, and you won't be rolling the dice on durability with this one because this Kid's Nike® Free 5.0 running shoe features strategically placed lugs for added protection on high-wear areas.
Features & Benefits:
Lightweight woven mesh upper: Offers breathability
Flywire cables wrap the foot: Provide a locked-down feel
No-sew overlays throughout: Offer lightweight support
Low-profile, Phylite midsole: Provides a resilient ride and is tough enough to double as an outsole
Segments of solid rubber under the toe: Enhance traction and durability in this key wear zone
Anatomical heel is rounded to roll with the ground: Promotes a more natural range of motion
Heel-To-Toe Drop: 8mm
Product 00894 Review
Specifications:
Comments about Kids Nike Free 5.0 Running Shoe:
Good fit looks great , lightweight .
Comments about Kids Nike Free 5.0 Running Shoe:
Xmas presents sure he will be thrilled
Vote to Create a Video!
We don't currently have a video for this product, but you can make it happen!
Can't wait to learn more about this product?
Recommended
More Related Products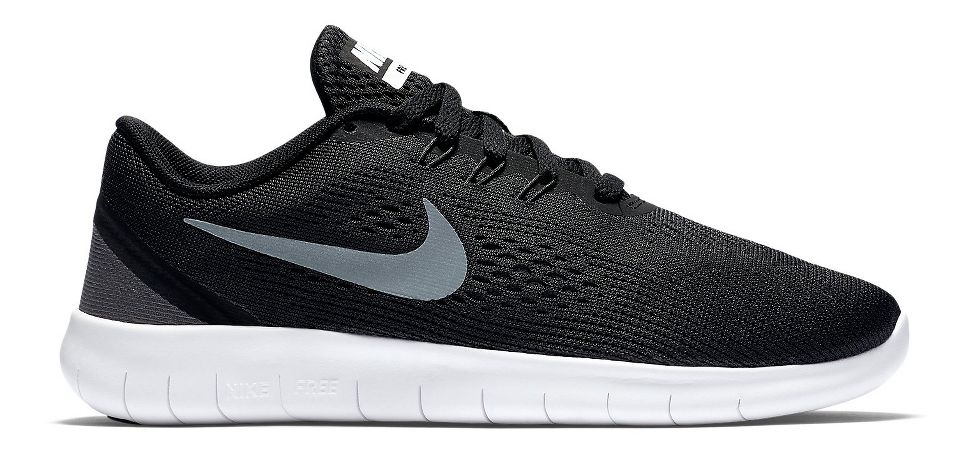 Kid's NIKE® FREE RN :: Set their strides free when you put your athletes-in-training into the Kid's Nike® Free RN ...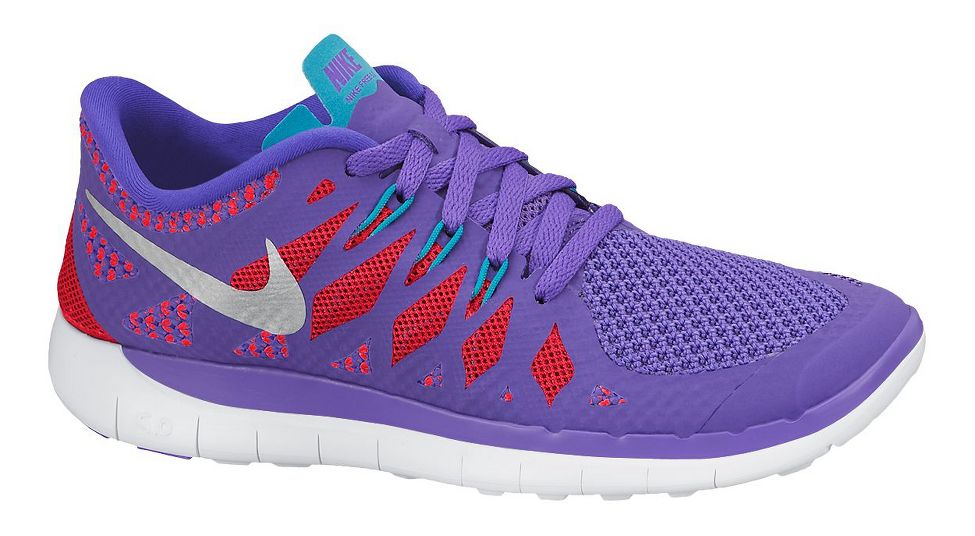 KID'S NIKE® Free 5.0 :: Lace up your little ones and let them run wild, feeling secure that they'll be ...
YOU'RE FAMILY, SO WE'VE GOT YOUR BACK!
VIP Members

: Enjoy

free

return shipping on exchanges for Kids product!
Simply call
1.800.537.6406

and a Fit Expert will process your exchange and issue your free return shipping label.
| | | | |
| --- | --- | --- | --- |
| Membership Level | Footwear | Apparel | Accessories |
| REWARDS PLUS VIP FAMILY | 90 Days New or Used! | 90 Days New or Used! | 60 Days New |
| VIP FAMILY | 90 Days New or Used! | 60 Days New | 60 Days New |
| NOT YET A VIP | 60 Days New | 60 Days New | 60 Days New |
Size Up Your Superhero
Grab a ruler
Have your superhero stand on top of your ruler, with their heel against a wall. Measure from heel to the end of their longest toe. (Can't get 'em to stand on a ruler? Watch this video.)
Use the table below to convert inches to shoe size. Make sure to size up by a half or whole size. That's it!
Children: Ages 0-6
| Shoe size | Inches |
| --- | --- |
| 0C | 3 1/8" |
| 0.5C | 3 1/4" |
| 1C | 3 1/2" |
| 1.5C | 3 5/8" |
| 2C | 3 3/4" |
| 2.5C | 4.0" |
| 3C | 4 1/8" |
| 3.5C | 4 1/4" |
| 4C | 4 1/2" |
| 4.5C | 4 5/8" |
| 5C | 4 3/4" |
| 5.5C | 5" |
| 6C | 5 1/8" |
| 6.5C | 5 1/4" |
| Shoe size | Inches |
| --- | --- |
| 7C | 5 1/2" |
| 7.5C | 5 5/8" |
| 8C | 5 3/4" |
| 8.5C | 6" |
| 9C | 6 1/8" |
| 9.5C | 6 1/4" |
| 10C | 6 1/2" |
| 10.5C | 6 5/8" |
| 11C | 6 3/4" |
| 11.5C | 7" |
| 12C | 7 1/8" |
| 12.5C | 7 1/4" |
| 13C | 7 1/2" |
| 13.5C | 7 5/8" |
Youth: Ages 6+
| Shoe size | Inches |
| --- | --- |
| 1Y | 7 3/4" |
| 1.5Y | 8" |
| 2Y | 8 1/8" |
| 2.5Y | 8 1/4" |
| 3Y | 8 1/2" |
| 3.5Y | 8 5/8" |
| 4Y | 8 3/4" |
| 4.5Y | 9 |
| 5Y | 9 1/8" |
| 5.5Y | 9 1/4" |
| 6Y | 9 1/2" |
| 6.5Y | 9 5/8" |
| 7Y | 9 3/4" |